July 9, 2018

Thank you to all who supported our campaign to establish integrity, honesty, transparency and accountability as standards of Park County law enforcement! I urge all who supported me to join me in congratulating Sheriff Elect McGraw, and a renewed effort by the Sheriff's Office to communicate honestly and restore public trust.
Monte Gore
Fairplay, CO
Monte Gore's vision as your Sheriff

Click Here Closing at June 2nd debate in Bailey

EXPERIENCE
TRAINING and

CHARACTER ALL MATTER
Monte has the broadest training and the most command experience of all the candidates. Monte is prepared to serve as Sheriff on Day-One. No on-the-job training needed.
Monte's answer about qualifications from Shawnee Debate hosted by the Park County Republican Central Committee:

Monte's short rebuttal answer about management experience from Shawnee Debate hosted by the Park County Republican Central Committee:
Monte's view on working with the community and how to run the Sheriff's Office. From the Shawnee Debate 05/02/2018:
Monte's closing statement from the Shawnee Debate held on 05/02/2018:
March 26, 2018
I am pleased to announce my petition was filed at 7:01 AM on March 19th at the Clerk and Recorder's office. Today March 26th I was notified by the Park County Clerk and Recorder's office that I am certified to be on the Republican Primary Ballot as a Park County Sheriff candidate!
Thank you to all who worked to help me reach this next step in becoming your Sheriff. I look forward to serving you in Park County.
Sincerely,
Monte Gore
October 7, 2017 Campaign Announcement

Dear friends and neighbors,
I want you to know how much I have appreciated your support and encouragement over the past year and a half. With much reflection and deliberation, I feel the time is right to put myself forth to be your SHERIFF. Many of you have expressed your concerns with me about the current administration. I agree, it's time for a change. It is time for integrity and honesty through transparency and accountability. It's time to reestablish trust with the public.
Experience matters, with over 36 years of outstanding law enforcement experience and 23 years of being in a command position, I possess the experience, maturity and knowledge to manage this office.
As the chief law enforcement officer of the county the Sheriff wears many hats, including law enforcement for the unincorporated areas of the county, search and rescue operations, court security & extraditions, wild-land fire management, jail operations and a host of other duties. You need a Sheriff who can manage these responsibilities and has a proven track record. I'm your candidate!
Education
I obtained my P.O.S.T. certification in 1992 and graduated from the Colorado Law Enforcement Training Academy with a 4.0 GPA. In 1999 I graduated from the U.S. Department of Justice National Institute of Corrections Academy. I worked to put myself through college and earned a Bachelor's degree in Criminal Justice from St. John's University, I graduated summa cum laude in 2000, with a 4.0 GPA. In 2003, I graduated from the Command Officers Course, sponsored by the County Sheriffs of Colorado. In 2011, I graduated from the 246th session of the FBI National Academy, once again with a 4.0 GPA (Less than 1% of American Law Enforcement officers are invited or will graduate from this prestigious academy). I have taken basic and advanced SWAT courses. I possess thousands of hours of law enforcement, leadership, and management training. I have the necessary tools to be your next SHERIFF.
Commitment to our Community
My family has made Park County our home, and we love living here. We take an active role in our community. (By the way, my wife Bobbi Gore is running for Re-2 school board, she would appreciate your support). We worked for years to help create a recreation district and build a recreation center to serve our community and create a healthy lifestyle for our kids, I was elected to the Recreation District and elected president of that organization. I was elected several times as the president of our HOA , and worked with other associations to rebuild our state required water augmentation reservoir, a necessary but huge expense (over $650,000.00). By working together, we were able to develop an affordable plan for our homeowners, and comply with regulations. I have been elected 4 times as the president of the Central Mountain Training Foundation, a grant -funded provider of P.O.S.T.-certified, FREE training for officers in our 7-county region which included 33 law enforcement agencies and over 3,300 peace officers.
Partnerships Our public shooting range was the result of a collaboration that I participated in with Park County Government, the National Rifle Association, Park County Road and Bridge, the South Park Shooters Association, the Colorado Division of Parks and Wildlife, and others. This range serves our community, guests, and 4-H Shooting Sports. In 2004, I received an award from Dain Rauscher for my work with the Jail Expansion. This expansion enabled the county to refinance the loan on the jail, by-pass a huge balloon payment, and meet federal, state and county regulations which allowed Park County to increase capacity and pay off the jail. Today, Park County still has the option to house inmates for other counties and offset costs for the benefit of our taxpayers.
During past droughts in our communities, I worked with several of our fire districts to obtain Humvees through grant programs. These vehicles were distributed throughout the county to help our fire districts combat wild land fires, and safeguard life and property.
In closing, I would like to remind our citizens that both Sergeant Wells Tonjes and I were both EXONERATED (see below press release). I reiterate my most sincere condolences to the Carrigan family, and salute all who made the best of an extremely difficult situation.
Park County citizens deserve a competent Sheriff, a person who is reasonable and genuinely concerned with the safety and security of our citizens and officers. My administration will offer our citizens proven leadership, proven experience, professional management, and a new direction.
www.MonteGoreforSheriff.com
P.O. Box 1262
Fairplay, CO 80440
719-839-1114
_________________________________________________
PRESS RELEASE: PARK COUNTY, COLORADO
FOR RELEASE – IMMEDIATE
CONTACT – COUNTY CHIEF ADMINISTRATIVE OFFICER, TOM EISENMAN
PHONE 719 836-4203
EMAIL teisenmen@parkco.us
_____________________________________________________________________
UNDERSHERIFF MONTE GORE RESIGNATION
Park County wishes to announce that Undersheriff Monte Gore has resigned his employment with the Park County Sheriff's Office. The County wishes to thank Undersheriff Gore for his many years of service.
For the last fifteen years, Undersheriff Gore has served the County with distinction. During his tenure, the County awarded him three life savings medals, one Special Citation for Bravery, seven Sheriff's Commendations, one award from the Park County Advisory Committee for his contribution to fellow employees, and one Sheriff's Distinguished Service Medal for heroic acts.
Undersheriff Gore has also been extremely active in the Park County Community. He is the current President of the Central Mountain Training Foundation, past President of the Foxtail Pines HOA, past President of the South Park Parks and Recreation District, past Vice President of the Park County 911 Board, and helped develop and build the County's public shooting range.
Recent press reports regarding the unfortunate on-duty death of Corporal Nate Carrigan have erroneously suggested that Undersheriff Gore and Sergeant Welles Tonjes were in some way implicated in Corporal Carrigan's death. The County wishes to clarify neither Undersheriff Gore nor Sergeant Tonjes were participants in the tactical decisions that were made at the time of Corporal Carrigan's death, and neither man is in any way responsible for Corporal Carrigan's death.
News
Monday, June 4, 2018 10:19 AM
Press Release, June 1, 2018 Monte Gore Statement on Resignation as Undersheriff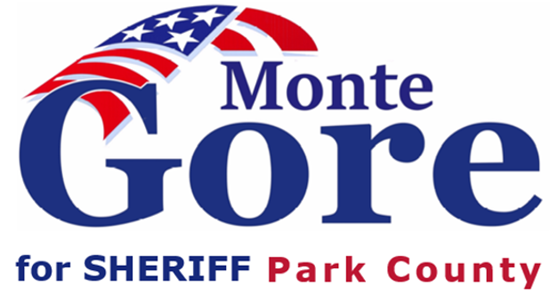 Press Release
June 1, 2018
Monte Gore Statement
Fairplay, Colorado

Park County Sheriff's Office distributed a public statement on March 13, 2018. That statement violated the non-disclosure agreement with Park County, which had previously prevented me from speaking publicly about my separation and departure from the Sheriff's Office. I have honored my agreement to confidentiality even while being the subject of wild speculation and negative commentary.
Thank you for your confidence while I have been unable to speak freely. I am honored that your knowledge of my character and reputation caused many of you to question the false reports made about me to the press. I am honored that two years ago, Park County quickly and publicly acknowledged the reports were false (https://cbsdenver.files.wordpress.com/2016/04/gore-release.pdf). I am honored that so many have believed in me. I have made full and complete statements in confidential private depositions, but I am still prevented from speaking about the Wirth eviction incident due to a confidentiality agreement with the County.
Leaving the Sheriff's Office was one of the hardest things I have had to do. Due to inaccurate statements made and the hostile work environment that ensued, I chose to take a severance settlement offered by the County, instead of filing a lawsuit. I chose to walk away from my position as Undersheriff rather than continue to serve under a man who I could no longer support. I am sorry that no amount of protocol, training, advice, or common sense was able to overcome the decision to "cowboy-it" on the day of the eviction.
I was in communications in Fairplay on February 24th 2016, and was responsible for monitoring radio traffic. Therefore, I was not an active participant in the eviction at 36 Iris Drive in Bailey. However, I was in a unique position to hear all radio traffic and follow how the eviction was handled. Prior to that day, I had instructed that none of our deputies were to enter Wirth's residence under any circumstances. There were many other options that would not have put our deputies at risk. It was a shock to hear the residence had been breached, and worse to hear the results.

Paid for by Monte Gore for Sheriff
www.MonteGoreforSheriff.com Info@MonteGoreforSheriff.com
Contradictory statements have been made to the press by others since that tragic day, blurring the truth and deflecting responsibility. I believe the Office of Sheriff requires accountability to the community. I believe the Office of Sheriff requires leadership embracing honor, truthfulness, integrity, and transparency.
---
Sunday, March 11, 2018 12:00 AM
PARK COUNTY, Colo. (CBS4) – A former Park County Sheriff's sergeant has settled a lawsuit with the sheriff's office after he was demoted following a shootout that killed Cpl. Nate Carrigan.
On Saturday, Welles Tonjes sent a tell-all letter to CBS4 saying:
---
Friday, March 9, 2018 11:56 AM
In press release, ex-deputy puts blame for Deputy Carrigan's death squarely on Sheriff Wegener. According to Tonjes, Carrigan and Martin Wirth would still be alive if plans were followed.
The full article will be posted when it is fully published by the Flume next week March the according the the article.
---
Thursday, February 15, 2018 12:00 AM
News conference adds no new information in Maggie Long case.
---
Saturday, February 3, 2018 12:15 PM
The Flume Editorial by Walter L. Newton, Editor discussed the current lack of communication and transparency from the Park County Sheriff's office. I agree and commit as Sheriff to deliver honest, clear and timely communication to the citizens of Park County.